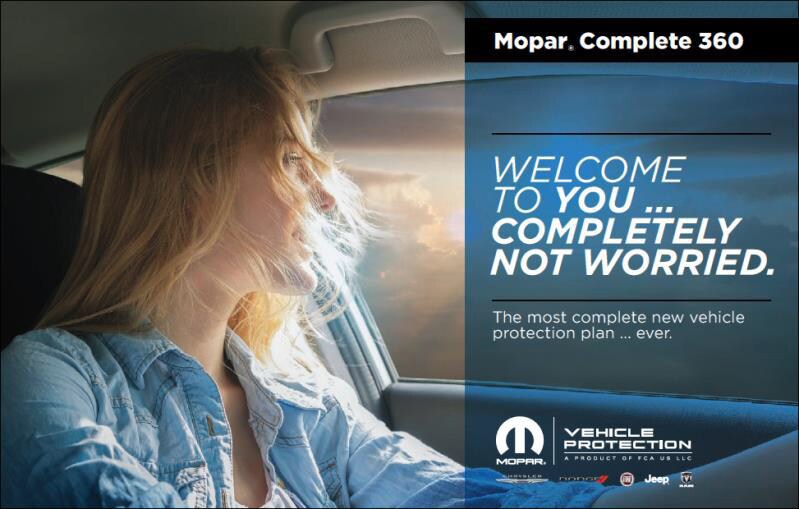 Mopar Complete 360 provides the following services and benefits for up to 5-Years/60,000 miles or 6-Years/75,000 miles: 
Maximum Care mechanical coverage, with a
$0
Deductible, that wraps perfectly 
around the existing 5-Year/60,000 Mile Powertrain Warranty
 or the most popular finance term with a 6-Year/75,000-Miles Mopar Complete 360 Term.
Full coverage of mechanical "Wear and Tear" beyond the coverage allowed by the Basic 3/36 Warranty -- these include items normally not covered by most service contract providers. For example:
Brake Pads

Rotors

Wheel Alignments

Vehicle squeak & rattle adjustments

Shocks/struts

Headlamps/bulbs/fuses

Wiper blades

Clutch, etc.
MOPAR ® Complete 360 also includes full coverage of scheduled and recommended maintenance as defined by the vehicle's owner's manual. Maintenance and wear coverage includes such items and services as:
Oil and oil filter changes

Tire Rotations

Vehicle lubrication

Air, cabin and fuel filters




 Clutch and assembly

Battery

Electrical wiring





Engine belts and hoses

Engine fluid (coolant, brake, transmission, etc.)

Spark plugs
Vehicle Eligibility:
New 2015 and 2016 eligible FCA US LLC vehicles covered by a minimum 5/60 Powertrain Warranty or 4/50 Basic Warranty for FIAT. Plan should be sold at time of vehicle delivery.
New vehicle major plan benefits are included with each plan: 
 $100 Towing/Roadside Assistance

First Day Rental

Car Rental Allowance

 $1,000 Trip Interruption Protection

Key Fob Repair/Replacement



Exclusions: Sprinter, Viper, Hellcat, SRT, vehicles equipped with Scat Package, right hand drive, Alfa Romeo, ProMaster, cab chassis, diesel pickups, EcoDiesel equipped Jeep, and all trucks used for commercial applications. 
Note: MOPAR ® Complete 360 has two offerings, one for the vehicles that require Conventional Oil and a second for vehicles that require Synthetic Oil.
What is NOT covered by MOPAR ® Complete 360:
•Fuel for the vehicle
•Wheels and Tires (see The All-In Package below for options)
•Collision damage (typically covered by the customer's auto insurance policy)
•Damage to paint, sheet metal, cosmetic trim or glass/plastic lenses
In addition to MOPAR ® Complete 360, MVP has built a specially priced package
designed to protect your vehicles even further. Known as the All-In Package, it's sure to top-off the peace-of-mind in your purchase. This add-on package may only be sold on vehicles with the 5 or 6 year versions of the MOPAR ® Complete 360 package.
The All-In Package includes:
• Road Hazard Tire and Wheel Protection: 
   Provides for repair or replacement of  all four tires and wheels if damaged due to a road hazard condition 
• Worn Tire Replacement 
   Pays total cost for up to two worn tire replacements including stems, mounting and balancing labor charges for the 5/60,000-Mile or 6/75,000 terms
• Auto Appearance Care Plus℠
  Covers repairs for all and any sized vehicle sheet metal dings and dents that can be repaired using the paintless dent repair process. Also, covers glass chip and interior trim repair